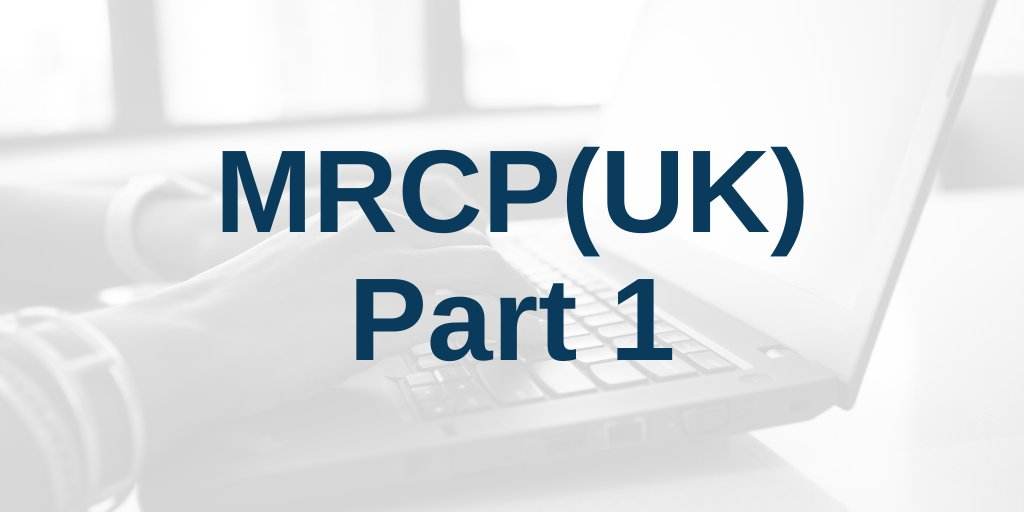 What Is MRCP Part 1?
I break down everything you need to know about the MRCP Part 1 exam.
This is the first in a series of articles where I break down my revision strategy for MRCP Part 1. To see more, click here.
What is MRCP Part 1?
For anyone looking to pursue a career in a specialty in internal medicine, the Membership of the Royal College of Physicians (MRCP) examinations are an important requirement for progression. It consists of 3 examinations: Part 1, Part 2, and PACES (Practical Assessment of Clinical Examination Skills) which must be completed before advancing to registrar level (in the UK, this is ST3/ST4).
MRCP Part 1 is the first of these examinations, and can be taken after your first year as a doctor. This is a single day, multiple choice exam assessing preclinical and clinical sciences in medical specialties. To be eligible, you must have a GMC recognised primary medical qualification and have at least 12 months postgraduate experience in medical employment. Once you have passed MRCP Part 1, you can attempt Part 2 and PACES (in either order).
The objective of the exam is to ensure an appropriate level of knowledge of physicians at the beginning of postgraduate training. Successful candidates should understand key aspects of histories, examinations and investigations that allow you to draw correlations and form differential diagnoses in clinical decision making. This understanding stems from basic preclinical sciences learned in undergraduate training, which invariably forms a large basis of the questions. MRCPUK correlate this to the expectation for core/internal medical trainees in the UK, of which the details can be found here.
In essence, anything preclinical and clinical in the specified specialties is fair game. This is why it's such a difficult exam to study for; the scope is huge. To study efficiently, you really do need to have a comprehensive plan.
Is this the right exam for me?
You should take MRCP Part 1 if you are:
Looking to specialise in an internal medical specialty. Specialties requiring MRCP include cardiology, neurology, geriatric medicine, gastroenterology, respiratory medicine, dermatology and many others.
Looking for an internationally recognised medical qualification. This may open you up to job opportunities outside your country. In some places, this may result in better salaries.
Considering coming to the UK to work as a doctor. MRCP qualification can be used as an alternative to PLAB.
A house officer/junior doctor unsure of your career path, but hoping to gain some knowledge in medicine.
You shouldn't take this exam if:
Your professional medical body doesn't recognise MRCP as a qualification.
You are planning to pursue a career outside internal medicine (e.g. in surgery, anaesthetics or emergency medicine) with certainty.
Key facts
These are the key facts you need to know about the examination:

Exam Format: One day examination consisting of 2 papers, 3 hours each. Each paper has 100 multiple choice (best of five) questions per paper.
Timing: All doctors in one sitting take the same paper worldwide simultaneously.
Marking: The examination is pass/fail, with no opportunities for distinction/merit. There is NO negative marking (you will not be penalised for wrong answers).
Content: Basic sciences and clinical information from 17 specialties. Questions per specialty varies.
Question style: Most questions have a clinical stem. There are no images (and therefore no questions on subjective interpretation of imaging, ECGs etc.)
Pass mark: MRCPUK do not release the raw pass mark. However, from looking at results from previous sittings I calculated it to be between 59-63%. On average, only 38% of candidates pass MRCP Part 1. Certainly a difficult exam!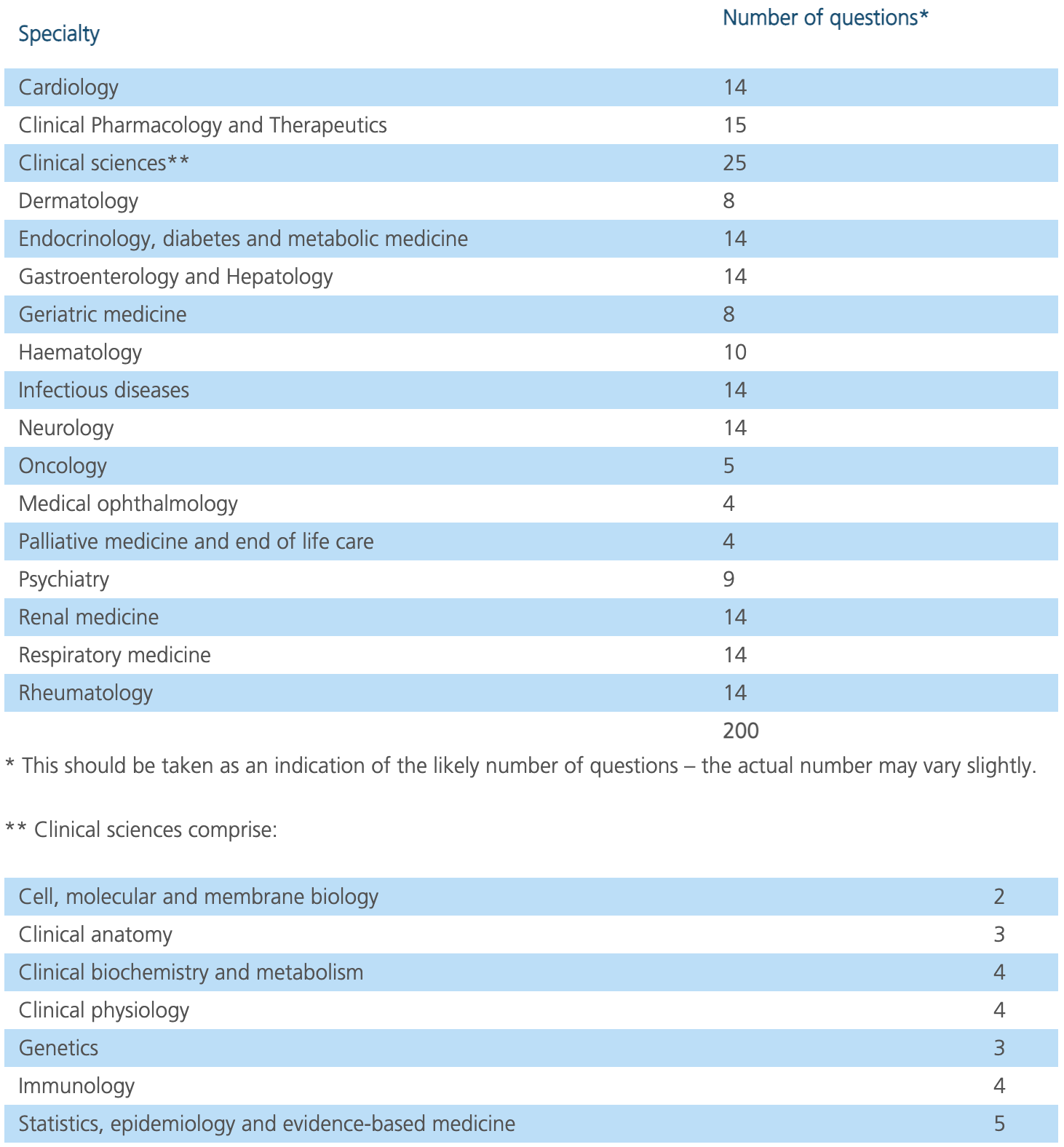 The Logistics
I've summarised the key bits of logistical information here:
Time: The exam sittings are held 3 times a year - normally around January, May and September.
Location: Sittings are held in approved test centres. There are 167 test centres in the UK, and many others across the world. You can use this link to identify test centres internationally. In September 2020, due to pandemic restrictions an online sitting was introduced (I had the misfortune of being the guinea pig for this. You can see my experience here). The Royal College of Physicians have announced plans to continue this in further sittings.
Registration: Applications for the exam can be made on the MRCPUK website, found here.
Application date: Applications must be made 3 months before the sitting. The website usually specifies periods when the portal is open for registration.
Cost: As of 2021, UK: 419 pounds. International: 594 pounds
Personal Thoughts
MRCP Part 1 is definitely challenging. This is evidenced by its low pass rate which has created its notorious reputation for being extremely difficult to pass. In many countries it's a requirement for progression in a medical specialty, meaning there's no way around it.
Anyone who has made it through medical school will be more than capable of passing this exam. However, the huge scope of preclinical and clinical content means that you do need to put in the work and time. There will be a lot of new content in each specialty that you'll need to sit down and learn. You can get around this to a degree by targeting your studying effectively, however it's not one of those you can wing in the last week and hope for the best.
The good news is that questions often follow a similar theme and assess the same topics. Through resources like online question banks, you can get a firm grip on core content. I'd definitely say Pareto's Law applies here: 20% of all the material will result in 80% of the questions. Learn basic conditions such as acute coronary syndrome, asthma, and stroke like the back of your hand. Common things are common, and they want to make sure you know it.
Overall, I do think what I learned revising for this exam has made me a better, more informed doctor. People often say the preclinical bits are pointless, but I found it just as important as the clinical parts. I've always stressed on the fundamentals when it comes to learning anything, because I'm a firm believer in learning through first order principles. In the process of forming memory, understanding is a key stage before learning and memorising information. You need to learn to crawl before you walk.  You can't understand quantum mechanics without learning the thermodynamic laws of physics.
By getting a good grasp on immunology and biochemistry, you will better understand the pathophysiology of diseases. Your knowledge will extend beyond memorisable; it will become applicable. For reference, the preclinical learning in MRCP Part 1 is MUCH less than the USMLE step 1.
If you're planning to take the exam, I'd recommend picking a sitting you'll have at least 2-4 months to revise beforehand. I'd also recommend allocating 2-3 hours of revision a day.
I hope this has been a helpful introduction to the MRCP Part 1 exam. If you'd like to know more about my  experience or the revision strategy that helped me pass the exam, read on!
Next: How I Ranked Top 10% in MRCP Part 1:  Preparation and Planning
Keep up to date with the latest!
We deliver the latest insights on medicine, health innovation, and medical technologies, straight to your inbox.
---